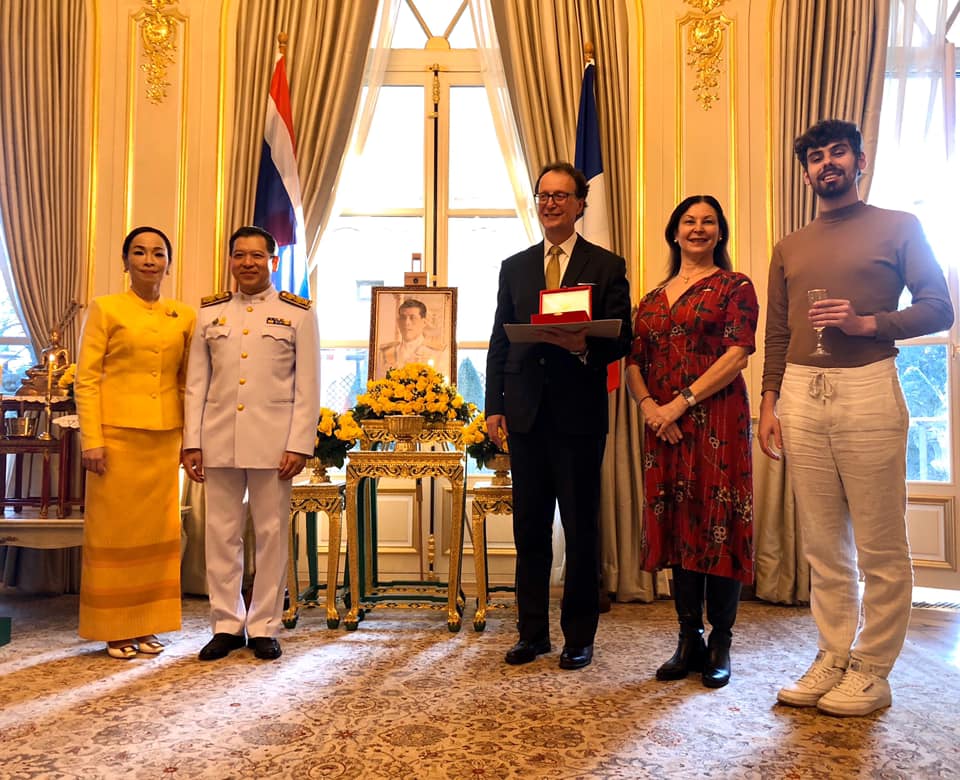 On 25 February 2020, H.E. Mr. Sarun Charoensuwan, Ambassador of Thailand to France, presided over the Royal Decoration Presentation Ceremony to honour the Honourable Mr. Gilles Garachon, former French Ambassador to Thailand, on the occasion which by Royal Command of His Majesty King Maha Vajiralongkorn Phra Vajiraklaochaoyuhua, the Knight Grand Cross of the Most Exalted Order of the White Elephant was hereby bestowed upon the Honourable Mr. Gilles Garachon, in recognition of his role in promoting closer relations between Thailand and France.  The ceremony was attended by the family and friends of the Honourable Mr. Gilles Garachon, officers from the Team Thailand in Paris, Embassy's officials and members of the Thai communit in Paris.
During his term in Thailand, the Honourable Mr. Gilles Garachon had played a vital role in promoting the relationship between Thailand and France in all dimensions, including political, economics, educational, social and cultural ties.  Moreover, he had initiated and organised the historic photo exhibition "Les visites d'État, une diplomatie d'amitié" to commemorate the 160th anniversary of the Franco-Thai diplomatic relations at Siam Paragon, as well as encouraged the high level exchanges between government officials and business sectors of the two countries.
After the ceremony, H.E. Mr. Sarun Charoensuwan and spouse hosted a congratulatory reception in honour of the Honorable Mr. Gilles Garachon and his family at the Thai Residence.